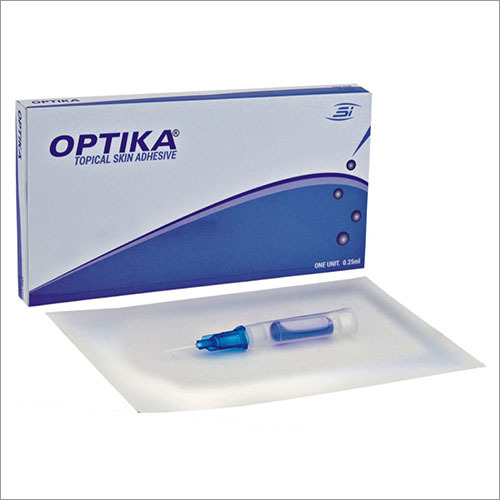 Optika Topical Skin Adhesive
Product Description
With sincere intentions to expand our business all across the country, we are engaged in manufacturing and supplying supreme quality Topical Skin Adhesive (cynoacrylate glue) in different specifications. It is manufactured with perfection using optimum quality raw materials and sophisticated techniques by adroit professionals. It is a special kind of adhesive widely used for joining edges of wounds together. It is helpful enough in providing side-effects free healing of several kinds of wounds in an effective manner. Additionally, we put forth this Topical Skin Adhesive (cynoacrylate glue) at reasonable prices for our valued clients.
Advantages :
This is beneficial in the places where regular sutures be applied.
Haemostatic, non-toxic and non-allergic to the tissue
Little tissue damage due to minimal heat on polymer
Strong bond
Reduces postoperative inflammation
Bacteriostatic
Indicative Areas:
Ophthalmic Surgery: Corneal Perforations etc...
ENT Surgery : Tympanic Perforations
Dental Surgery: Dental implants, periodontal Extracting Sites.
General Surgery : Laparoscopy, Hernia, Appendicitis
Plastic Surgery : Cleft lip, Excision of scars, Skin Graft
Gynaecology: Episiotomy, Cesarean Section
Gastroenterology : Varices, Wounds in Liver and Pancreas
Orthopaedic : Tendon repair, Bone Graft, Cartilage binding
Surgical oncology : Thyroid & Breast malignancy surgery
Paediatric : Lacerations, Hernia, Cleft palate
CAUTION
It is not used for any hypersensitive people with any of the ingredient.
Uniqueness
It is easy to distribute and minimum price
It is not vulnerable to atmospheric moisture. The packaging helps to store it for longer period of time.
It has a patent micro-delivery
It is easy to apply
It has minimum chance of necrosis.