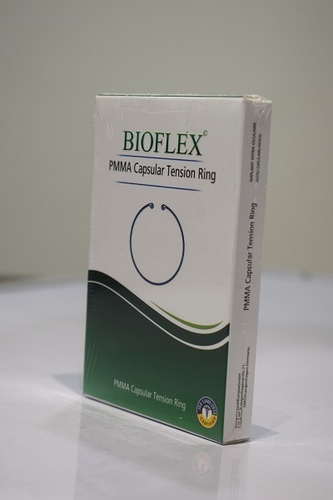 Capsular Tension Ring
Product Description
A CTR is an open ended, flexible Polymethyl methacylate (PMMA). It certain two eyelets at end.
PMMA Capsular Tension Ring is certain following specification:-
CQ Pmma - Clinical Quality material with uv filter clear and blue colors available.
Advanced Capsular Tension rings are single or double fixation hook specially designed for scleral fixation with suture.
Circular expansion and atabilization of the periphery of the capsular bag
Reduced risk of capsular fibrosis and shrinking
Safe IOL centration in eyes with zonular dehiscence.
MODEL CT

1109

1210

1311

1412

1210L

1311L

Overall Diameter

11.0mm

12.0 mm

13.0 mm

14.mm

12.0 mm

13.0 mm

Insertion Diameter

09.0mm

10.0 mm

11.0 mm

12.0 mm

10.0mm

11.0mm

Fixation Hook

Nil

Left side with Step Vault

Material

CQ-PMMA Clear / Blue
MODEL CT

1210R

1311R

1210LR

1311LR

Overall Diameter

12.0 mm

13.0 mm

12.0 mm

13.0 mm

lnsertion Diameter

10.0 mm

11.0 mm

10.0 mm

11.0 mm

Fixation Hook

Right Side with Step vault

Both Side with Vault

Material

CQ-PMMA Clear/ Blue